Riverview is another room that boasts a beautiful view of the Hillsborough River. The double set of windows allows guests to enjoy the grandeur of life in the country. The room is 250 square feet, featuring a comfy queen sized bed, air conditioning, and plenty of room to laze about the day. It has a three piece bathroom that is located at the end of the hall.

This room can be combined with the Sunrise room, for families or guests traveling together, at a reduced rate, as they will share the bathroom.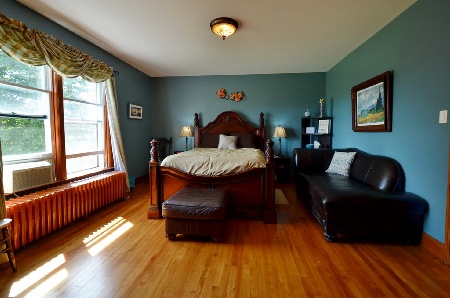 $95.65 nightly + HST (Harmonized Sales Tax, 15%) = $110
$478.26 weekly + HST (7 nights) = $550

Combo Rooms - Sunrise & River View together

$147.26 nightly + HST = $170
$728.61 weekly + HST = $900

Prices includes a full continental breakfast and daily housekeeping, as needed.