Another of our guests' favourites is the Sunrise Room, cleverly named for its vibrant orange colour. Although it is not in direct view of the sunrise, it does boast a spectacular view of the Hillsborough River. From the double set of windows along the river, guests can watch eagles in the morning diving for prey, or blue herons fishing on the riverbank. It is a peaceful escape.

With over 250 square feet of living space, there is plenty of room to relax and unwind. This room has a queen size bed, air conditioning, and a three piece bathroom that is located at the end of the hall.

This room can be combined with the River View room, for families or guests traveling together, at a reduced rate as they will share the bathroom.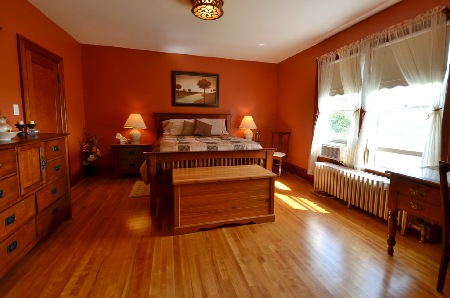 $104.35 nightly + HST (Harmonized Sales Tax, 15%) = $120
$573.91 weekly + HST (7 nights) = $660
Combo Rooms - Sunrise & River View together

$156.52 nightly + HST = $170
$860.87 weekly + HST = $990


Prices includes a full continental breakfast and daily housekeeping, as needed. We have a 5 day cancellation policy.